Please do not ignore this message! This is important:
We are asking you to ensure your home's AC system is not causing hidden mold or water damage to your home or the home of any neighbor. Simple precautions now can save us all plenty down the road.
Our AC systems were installed circa 1982, when the apartments were renovated and converted to condominiums. Refrigerant lines were routed through available common-area indoor spaces. Foam rubber insulation was used to insulate the cold-side refrigerant lines. With age, the rubber hardens, shrinks, cracks, and crumbles, exposing the bare metal pipe. Water condenses onto the cold surface, and can drip enough to damage Sheetrock and framing timber.
Can I skip this, my AC is running great?
No! Colder AC is even more likely to drip water from refrigerant lines. Dripping water does not respect your unit's boundaries. By Crestwood policy, damage from any type of leak is the responsibility of the unit having or causing the leak.
New insulation on the AC lines will improve your home's energy efficiency and comfort. Your AC unit will not need to work as hard, and will last longer. Your indoor air quality and comfort will improve from lower humidity and fewer mold spores in the air.
What should I do?
Get your system serviced by a professional. Ask to have the refrigerant line insulation inspected. Most HVAC professionals have a point-and-shoot infrared (IR) camera in their toolkit. IR can easily locate Refrigerant lines behind Sheetrock walls when the AC is running. IR also shows if the Sheetrock is wet. If you have wet Sheetrock, do not delay in getting the situation fixed.
Watch out for mold or wet spots anywhere in your home.  This is not normal, and is unhealthy. Mold is easy to get rid of: simply remove the water source, and it will go dormant.  Obviously washing away the stain will make it look better.
Go HERE to report any findings from your professional HVAC consultant.  Put "Refrigerant line, unit xxx" in the subject field, where "xxx" is your unit number.  Your information is confidential (HOA Board and consultant only), and never used for enforcement.  The information is needed to help us to get a better understanding of the problem.
Check your AC closet after the AC has run a while. For example,  it may look something like this: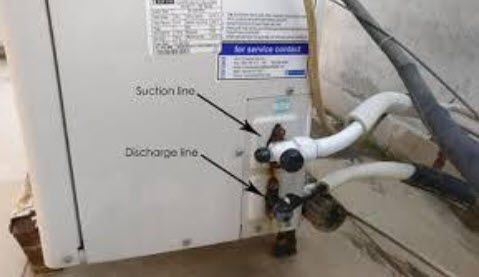 * The pipe at the top is the suction (cold side) refrigerant line. It will be copper or black in most Crestwood units. Note the rubber insulation on this unit ends six (6) inches from the AC unit. This is WRONG! The insulation must cover the entire pipe and the fitting it is attached to. Water dripping from the bare section and puddling on the ground is what caused the mold visible on the floor and wall.
*For illustrative purposes only. Please consult with an HVAC professional regarding your unit.
If you see water dripping around the suction line, it is feeding mold. Fix the insulation. Once your home is dry, mold cannot grow, and existing mold will go dormant.
The HOA needs your help
The HOA is working with a professional engineer to address HVAC lines in the common areas.  We have no right and no desire to enter your home, but we need your cooperation to ensure all of us avoid expensive repairs and enjoy a comfortable and healthy indoor environment. We will update the owners and residents when we have the consultant's advice.  We plan to publish approved materials and work practices for re-insulating any degraded refrigerant lines.
Some other ideas to consider:
Contact your neighbors if there is a shared wall, floor, or ceiling exhibiting wetness or mold. It is possible (but not likely) that the refrigerant line making your wall cold or wet is not yours.
Check for outdoor air entering your home, for example through the holes for HVAC service lines. Gaps should be sealed and insulated to keep non-conditioned outside air out of the conditioned living space (applies both summer and winter). The opening for the furnace exhaust has to meet the fire safety code.  Please do not endanger yourself and your neighbors with improvised sealing and insulation of the furnace exhaust pipe.
Indoor humidity needs to be maintained below 60% to prevent mold. A dehumidifier is recommended for cases where the AC system does not control the humidity (typically only in lower-level homes). With dehumidification, your AC system will run less, you will be comfortable at a higher thermostat setting, and there will be no problems with mold, assuming other water sources are also eliminated.
Get rid of mold in the shower. Wipe down the wet surfaces after each shower, using a towel or a squeegee. Once every two weeks, clean the surfaces using any disinfecting cleaner. That will improve aesthetics, and greatly extend the life of the shower.
Stay safe, stay healthy!